Blind Brook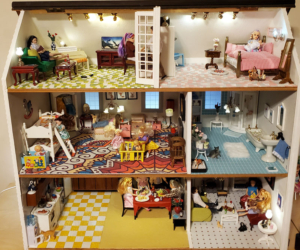 On March 7, 2020, New York Governor Andrew Cuomo declared a state of emergency.
That's when I decided the best strategy for staying alive was staying inside.
As the coronavirus waged war on New York, I needed an escape from reality. I needed to keep my mind off of politics, death, and school closings.
That's when I took solace in sprucing up Blind Brook.
I ripped out walls, tore up a staircase, and built an outdoor patio with a barbeque and firepit. I created a stone wall, a rock garden, and a koi pond.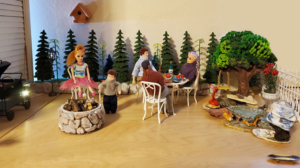 I filled the house with twenty dolls: husbands, wives, sisters, brothers, babies, kids, and a grandma and grandpa.
I carpeted, tiled, wallpapered, built a French Door, and added track lighting.
I also placed a small LED rechargeable desk lamp behind the house to give the illusion of either daylight or outdoor lighting.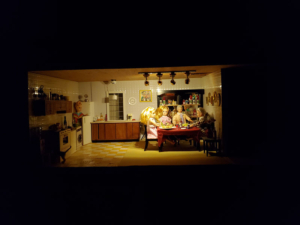 I created a peaceful atmosphere for my doll clan, moving them around from room to room while the news—mostly bad—blared on my real-life television in the background. MUTE!
I desperately tried to distract myself as New York State recorded more COVID-19 cases than most other countries!
I threw lavish dollhouse parties and celebrated birthdays and other holidays with my Lilliputian family and friends.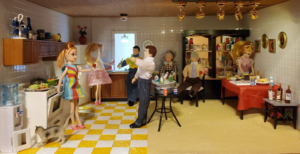 I even prepared a Thanksgiving feast, followed by a Christmas extravaganza, topped off with a wild and crazy New Year's Eve soiree—albeit all in miniature.
Covid be damned, I was still going to be the hostess with the mostess.
And okay, maybe New Year's Eve was a little too wild and crazy.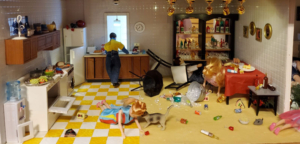 As Blind Brook renovations wound down, people were still dying in numbers I found impossibly hard to comprehend, which is why THE BELLMORE came next.