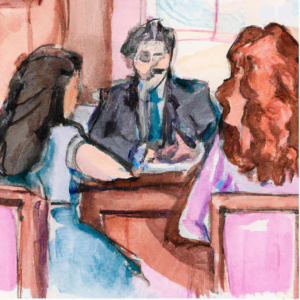 CHAPTER 20
HELP!
August 1965
Today the song Help! by the Beatles was playing on the radio, and the words of the song describe our lives to a T because we desperately need some help, especially the part that goes,
♪ Help me if you can; I'm feeling down
And I do appreciate you being 'round
Help me get my feet back on the ground
Won't you please, please help me ♪
It's been seven months since my window screw-up, and Mom still blames me for everything bad happening to her. She keeps whining that Roberto was our only hope of escaping Bridgeport and that Nick will never be of any help since he likes it here. Plus, Mom says Nick has no ambition and will never make enough money to get us out, even if he changes his mind. According to Mom, we're stuck in Bridgeport forever, thanks to me.
I hate that I'm the cause of all of Mom's troubles, but as long as I'm with Mom, Mem, and Mere Germaine, I agree with Nick that we don't need to leave Bridgeport, although it would help if we could move someplace without bugs and rodents.
Mem always says that help can come in the unlikeliest of places and when we need it the most, but Mom says there is no one to help us now that Roberto is off with some other girl. Mem's reply to Mom is that if he found another girl so fast, he wasn't the right guy for her anyway.
Speaking of help, before school let out, Sister Regina Mary helped me sign up for a library card because she believes that reading is good exercise for the brain. Sister also says that books will help my imagination and strengthen relationships. I hope Sister is correct because I could sure use some help with my relationship with Mom.
But the biggest thing that has happened since I wrote last is that poor Adam passed away. Lucky for him, Mem was there and helped him get to the other side. I have never seen Mem so upset, and it took her a few weeks to return to herself. You'd think that with Adam dying, Mom would be nicer to me, but she hasn't been any help at all, mainly because she still hasn't heard one word from Roberto.
Two days ago, Mem got a call from Adam's lawyer asking her to come into his office. I took the bus with Mem to a fancy building on Main Street. The lawyer said that Adam's will was recently probated. Mem told the lawyer she didn't understand what that meant, so the lawyer explained that Adam's will was proved by the Bridgeport Court to be his last will and testament. Mem was still confused as to why she was there and asked the lawyer if she was in some kind of trouble. Mem was shaking like a leaf.
I could see the lawyer felt bad for Mem and calmed her down by saying that she was in no trouble at all and that he had great news for her. Mem replied that Adam dying was terrible news for her, and nothing could change that. That's when the lawyer told Mem that Adam had left her his car, the contents of his house, and a substantial amount of money.
Mem cried like a baby, and the lawyer offered her a box of tissues. Seeing Mem cry made me cry because I never saw her cry before.
The lawyer sat quietly for a minute before asking, "Who is Tony?" Mem, who was blowing her nose, pointed her finger in my direction. The lawyer looked down at his notes and then back up at me and said, "Adam left you his baby grand piano," which made the two of us cry even more.
Then the lawyer turned to Mem. "Don't you want to know how much?" "How much what?" Mem asked, wiping the tears off her face. "How much money Adam left you," the attorney replied, looking shocked that Mem didn't think to ask him.
Mem stood up, straightened out her skirt, grabbed my hand, and on our way out of his office, looked back at Adam's lawyer and said, "No, I don't want to know how much. When I get the money, I'll know."
Up to me, I would have wanted to know how much money Adam left Mem. Poor thing cried the whole bus trip home, even though I tried to calm her down by reminding her she was right on the money when she said that help comes from the unlikeliest of places and when we need it the most. She replied that right on the money was the wrong choice of words.
The one thing I know for sure is thanks to poor dead Adam, help is on the way. And no matter how much or how little, I know his money will go a long way to helping us get our feet back on the ground.