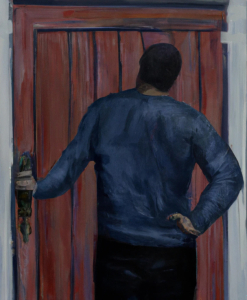 Chapter 24
HE'S BAACK!
February 1966
The phone rang yesterday, and when I answered it, a man was on the other end asking, "Is Natalie there?" When I replied that Natalie wasn't home, he asked me to tell her Roberto called!
Roberto? Oh no, not again.
I wanted to tell him off, but what good would that have done? I also wanted to say, "Do you know who this is? THIS IS NATALIE'S TWELVE-YEAR-OLD DAUGHTER!" But, of course, I didn't.
I ran outside and told Mem, who was hanging sheets on the clothesline. She put her bag of clothespins on the ground, gave me a worried look, and we both sat down on the stoop.
"What now?" I asked Mem, but she didn't answer me. Then Mem went into the house and told Mere Germaine about the phone call, and the three of us sat at the kitchen table in silent shock. Even Rib was upset, letting out tiny, high-pitched cries. "What now?" I asked again. This time, neither one of them answered me.
When Mom came home, and I told her that Roberto had called, she lifted me off my feet and kissed me all over my face while laughing like a hyena. I liked the attention, so I forced myself to look happy for her, even though I felt pure misery inside.
Mem and Mere Germaine warned Mom to think carefully about what to do next. But she knew exactly what she wanted to do and called Roberto, whispering to him from inside the closet next to the phone.
When Mom got off the call, she was the happiest I'd ever seen her and told us that Roberto was coming to the apartment to pick her up and take her out to dinner at some fancy Country Club in Westport called Longshore.
She group-hugged me, Mem, and Mere Germaine and then ran upstairs to get dressed while we stood there dumbfounded.
About an hour later, Roberto showed up at our front door. I was sitting at the kitchen table with Mem. Mere Germaine was boiling water for tea at the stove, and Mom was still upstairs getting "all dolled up," as Mem called it.
Mem told me to answer the door, but I said a big fat NO. Mere Germaine took off her apron and opened the front door. Mem stood up and walked into the living room, but I sat at the table with my back turned toward Roberto, and I refused to turn around unless asked to. It was no surprise to me that nobody cared to ask me anything because, as usual, I am invisible. Or maybe I'm visible, but no one takes the time to hear what I have to say.
And unfortunately, I couldn't see anything because I was facing in the opposite direction. I heard Roberto say "Nice to meet you" to Mem and Mere Germaine, but nobody said anything to or about me. I'm sure they were all nervous about what I might do or what I might say. Rib, who barked non-stop, had plenty to say.
Mom ran down the stairs, and Mere Germaine blurted out that she looked like a movie star. Mom always looked like a movie star. I quickly turned my head around just in time to see the two of them kiss, which made me want to puke.
Mom and Roberto said goodbye, but to no one in particular, and from a side eye, I could see that the two of them made it a point not to look in my direction.
After they left, I ran to the front window and peeked through the blinds. They walked hand in hand to the parking lot and then drove away in his fancy black car. Mom looked especially beautiful in a green velvet mini dress that Mem always thought was too tight and too short for her. But I thought Mom looked perfect. I just wish it was for Nick and not Roberto.
Mem said she was upset that Roberto never looked over at me in the kitchen. I told Mem I was upset that Roberto didn't open Mom's car door for her like Nick always does.
At breakfast this morning, while Mom was still sleeping, Mem accused them of being out until the wee hours of the morning. Even Mere Germaine complained about Mom carousing around all night and made it loud and clear that she planned to speak to her about it.
The only loud and clear thing I know is that Westport Roberto and his fancy black car are back, which means poor Bridgeport Nick and his old, beat-up used car are most definitely getting the boot.