CHAPTER 3
WHITE STREET
January 1960
Mem and Mom were always talking about the big news of the time: Elvis was in the army; Senator John F. Kennedy was running for President and Mem got a Saturday job working at the Woolworths lunch counter on Main Street.
During the week, Mem worked at Remington Arms on the assembly line, boxing bullets, and was a seamstress at night and on Sundays. I was upset that Mem was going to be away even more now that she had taken a job at Woolworths. I should have cared more that Mem was killing herself working seven days a week, but I learned quick enough not to think or care too much about anything.
We lived in Bridgeport, Connecticut, in a tenement on White Street, although there weren't too many white people.
Our top-floor railroad apartment was laid out in a single long line of rooms: from the kitchen to the living room, to the bedroom that Mom shared with Mere Germaine, to my grandmother's bedroom at the end. I slept with Mem.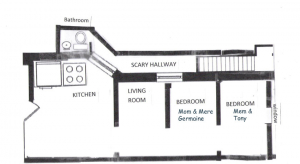 The kitchen was large and had plenty of cupboards. There was one extra-large cupboard to the lower left of the sink, filled to capacity with empty shoe boxes. I hated that cupboard. I hated the shoe boxes even more.
The tiny bathroom was directly off the kitchen to the left and lined up with a long creepy hallway that ran from the bathroom all along the length of the entire apartment and ended up at a dark, steep, and narrow stairwell that led down twenty steps or so to the front door.
We never used that door, because it was padlocked—sealed shut and unusable. So the only way in and out of the apartment was to climb the several rows of steep stairs in the back of the house and enter through the kitchen. Only one way in and one way out. A real fire trap.
Our apartment was run down, but Mem kept it spotless, which unfortunately didn't stop the cockroaches and rodents from invading.
I hated the roaches. Big bad cockroaches. They came out fast and furious.  And they were bold. I would stamp my foot next to them to scare them, but they wouldn't budge. The roach brigade usually made their debut anytime it went from light to dark.
When we would enter the kitchen at night—and turn on the lights, all the cockroaches would frantically scurry around the walls, trying to flee from the brightness. Hundreds of cockroaches would cover the walls of our kitchen. They came in droves. Welcome home.
The roach activity was horrifying.  But it was just the way it was. Mom would carry on and throw a fit, but not me—and never Mem.
But I was most petrified of the rodents. They were probably rats, but I don't think I could have survived living there, thinking they were rats.
I insisted on sleeping with the bedroom light on even though Mem preferred the light out. No way I was sleeping in the dark. It didn't take a genius to figure out that on White Street, everything scary came out in the dead of night.
Despite the rodents and the bugs, I never imagined that there was a better way to live. I didn't realize at the time that we were poor and living in squalor conditions. It was just home to me.
At night I would help Mem set up the rodent traps. I hated it, but the thought of having hungry mice—or worse—roaming around our apartment was even scarier. So, our routine before going to bed was to lay traps all over the apartment. And if Mere Germaine weren't already asleep, she would cut up the cheese.  Mom refused to help us.
Poor Mom. She would yelp every time she heard a trap snap. Snap, snap, snap. All night long.
Early every morning, Mem would grab a shoebox from the dreaded cupboard, and roam around our apartment, throwing the successful traps into it. The shoebox would be full of rodents with broken necks. Mem would then calmly throw them into a garbage bag and then into the garbage can on our back porch, and place the shoebox back in the cupboard next to the sink.
On the first of every month, our landlord would put out a dish of rat poison in the corner, next to our back door. By the end of the month, the bowl was always empty which made me happy, because it meant a lot of dead rats.
I was a curious child, so I asked Mem a lot of rodent questions. I wouldn't call Mem a mouse or rat expert, but she knew a lot about both.
My math skills weren't the best, but I knew that where there was one rodent, there were many more. Mem told me that rats have large families—up to forty or fifty. And since rats rarely walk more than a few hundred feet from their birthplace, if I saw one, the other forty or so were probably close by.
The good news from Mem: Rats had a one-year life span, so they didn't last long.
The bad news from Mem: Rats multiply like rabbits.
And more bad news from Mem: Rats eat mice, so they rarely cohabitate.
Which, for me, meant that the mouse jig was probably up.
As you can imagine (or not), I was obsessed with our uninvited guests. So was Mem, but not in a scared way like me.
Mem would methodically and carefully inspect all of the lower parts of our walls — particularly in the bedrooms, at about one inch from the floor.
According to Mem, rats were wall huggers so they would leave behind dark oil marks from their hair. Rat hair oil.
I was frightened. But nothing compared to Mom. She was horrified and disgusted and regularly cried and cried out in fear.
All Mom would ever say was, "We have to get out of here." But I don't remember ever thinking that we had to get out.